What People Say About Ocala Jockey Club Weddings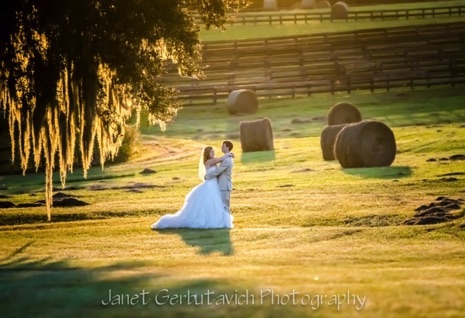 We found the Ocala Jockey Club online while looking for a location appropriate for our Southern rustic theme. We fell in love with the venue on our first visit. Upon entering the private gates we drove along the track to watch a jockey breeze by on a Thoroughbred right beside us. This was special to us as we own an off the track Thoroughbred that my wife competes as a jumper. We intended to have an outdoor ceremony and the Ocala Jockey Club did not disappoint with its rolling grass hills and towering oak trees. The clubhouse was exactly what we were looking for to hold our reception: indoors, air conditioned, and the flexibility to use our own vendors. Thank you, Ocala Jockey Club, for providing us with the perfect location to have our once in a lifetime event.
Alyssa and Patrick, married October 11, 2014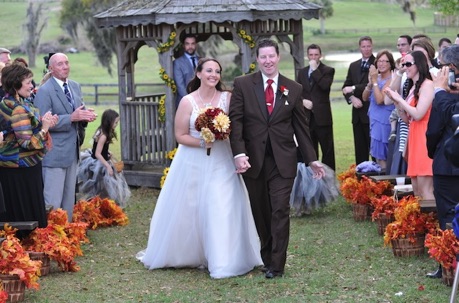 We searched from Tampa to Jacksonville to find the ideal location to being the next chapter in our lives together and after just one visit to Ocala Jockey Club we knew our search was over! It was extremely important to us that our venue have its own inherent character and charm - we didn't want the bland ballroom look. Ocala Jockey Club's facilities are BEAUTIFUL on the inside and BREATH TAKING on the outside! We had guests in attendance from six states and five countries and they were all blown away by the stunning views! The number of compliments we received from both our guests and our vendors specifically about our choice in venue was astounding. Ocala Jockey Club truly was the ideal location to begin our "Happily Ever After"!
Megan and Troy, married March 13, 2015
"I absolutely loved the Jockey Club and the entire experience!!! Nancy was fantastic with showing me the place and really making me feel comfortable and not pressured. I met Nancy at a bridal show @ the Hilton in Gainesville and honestly, I didn't expect to find my venue on such short notice but she was so welcoming and willing to work with my time line. All my guests talk about how pretty it was (still to this day!).
Ocala Jockey Club provided more than the prefect venue, they provided a stress free experience for my wedding day. I met Nancy a few weeks before my wedding and she took me on a tour of the Jockey Club and I instantly feel in love! What an amazing site! The club house was unique and big enough for all my guest and the pastures were beautifully manicured for the ceremony. I didn't feel pressured to decorate the entire venue because the area was so enchanting that it became part of my decoration. The green pastures, beautiful landscaping, and view of the premises was enough to make all my guest feel they were part of something special. My guest couldn't stop raving about how peaceful it was during the wedding and everyone enjoyed the sunset on the balcony. I can't thank you enough, Nancy and the entire crew at the Ocala Jockey Club for helping make my day the best it could be!
Melissa, married March 15, 2014
My fiance and I had everything planned down to a 'T', but then the venue we booked - double-booked our date. God works in mysterious ways because what we got from the OJC we never could have imagined a more perfect wedding day. From the cost to the flexibility of using the facility, to the vendors recommended, everything turned out beautifully. Nancy has been amaing and very patient with answering all of our questions and concerns from the very beginning all the way to personally waving goodbye to us as we left our wedding to start our new beginning. OJC is an absolute beautiful venue and if we had to do it all over again, we would without a doubt have picked it from the beginning.
Christel and Kurt, married January 31, 2015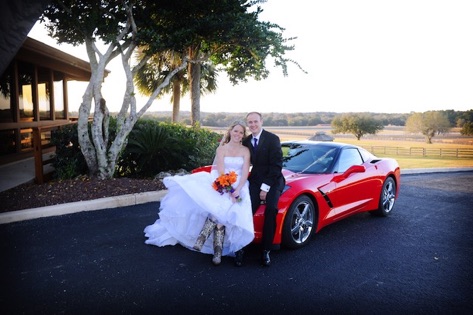 Our original plans were to have a beach wedding. However, every place we looked at fell through. Since we live near Ocala, we decided to check out a few rustic themed locations to see if it was a fit for us. The very first place I found with a rustic theme near Ocala was the Ocala Jockey Club. It was absolutely love at first sight! We fell in love with the gorgeous scenery - 600 acres of horse farm, you can't get a more beautiful, rustic venue than that! We could immediately picture our wedding in front of the front gazebo - that's a sure sign you've found your place! Other benefits that we loved were that the reception could be held on site so our wedding party and guests didn't have to travel to a secondary site and that we could bring in our own vendors. Our wedding was so beautiful and my step children STILL say they wish they could go back to our wedding day (3 months later!), It was so beautiful and better than anything I could have dreamed. I am SO happy that we found the Ocala Jockey Club and that all our other prior plans fell through - everything happens for a reason! I would highly recommend the Ocala Jockey Club for your rustic wedding - you won't be disappointed!
Heather and Robaldo, married 2015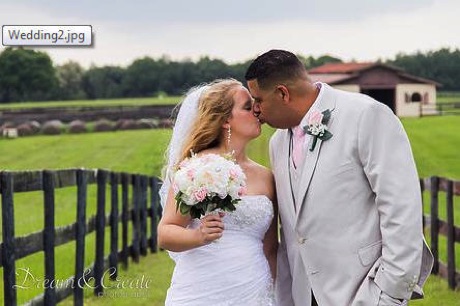 "When my wife and I started the process of planning our wedding we had wanted to make it a magical moment for the both of us. One thing we struggled with the most was that we could not find any place that was not a golf course with their own catering company or a block building with no charm. My wife is a horse lover and she always wanted a barn-type reception setting. We looked at a few very expensive places and some that we would need to put a lot of work into to make it our own. Then we found the Ocala Jockey club and our image for that perfect day was no more than a booking away. Your staff and accommodations made us feel like family. The facility was breath taking both from the inside to the outside. The fact that we could bring in a catering company that was tailored to our taste was only available with your facility. I want to thank you for making my wife and I's wedding into a night we will never forget and the elegance of your facility and accommodations I would recommend to anyone. Thank you again, you sure did help us make our dreams come true."
Heidi and Shane, married January 2014