THOREAU
2018 Fee: $1,500 LFSN
Gone West - Madame Thor, by Deputy Minister

Thoreau is by GONE WEST, sire of 94 blacktype winners himself, sire of sires such as Speightstown, Elusive Quality, Proud Citizen, and Grand Slam. GONE WEST's sons at stud have already become sires of sires of their own right, such as Elusive Quality siring the still young but very exciting sire Quality Road, proving the value of his male line.
As for Thoreau himself, he has "Gone West, then Gone Back East". He started his stallion career under the radar in California and relocated to Florida for 2018. His stallion career began as an experiment of only breeding to a small number of his owner's mares. He started his track career with much hope and expectation of making a good miler, when a stall injury severely damaged his tendon and ended his career before it started. At that time, his half-brother by Smart Strike had just sold for $550,000 as a yearling and showed enough promise to earn a start in the Florida Derby. Until his move to the Ocala Jockey Club, his availability was limited to private stallion duty for his owners' mares. Now that his foals have become of racing age and the stallion's strengths and tendencies are known through his progeny's performance on the track, he is becoming available to breeders in the Florida market at a reasonable fee.
Sire Line:
• THOREAU is by sire of sires GONE WEST, sire of 94 blacktype stakes winners, including ZAFONIC (champion 2yo colt in England, Europe and France), champion 3yo colt in Eur and Fr, Two Thousand Guineas S., Eng-I, etc.), ROYAL ABJAR (chamption 3yo colt and older male in Ger), COMMENDABLE (Belmont S., G1, etc.), MARSH SIDE (Pattison Canadian International S. G1T, etc.), DA HOSS (Breeders' Cup Mile, G1T twice, etc.), CAME HOME (Pacific Classic S, G1, etc.), JOHAR (John Deere Breeders' Cup Turf, G1T, etc.), LASSIGNY (Rothmans Ltd. International S, G1T, etc.), WEST BY WEST (G1), GRAND SLAM (G1), ZAFTIG (G1), etc.
• GONE WEST's other sons as stallions include SPEIGHTSTOWN, ELUSIVE QUALITY, PROUD CITIZEN, GRAND SLAM, etc.
• GONE WEST's male line grandsons include QUALITY ROAD, MUNNINGS and SPEIGHSTER.
• GONE WEST has also made his mark as a broodmare sire of stallions such as VIOLENCE.
• THOREAU's foals exhibit will to compete, strong closing kick, and staying power. They run well on turf.
• THOREAU's foals to date have had 50% winners to starters.
"THE WORLD IS BUT A CANVAS OF OUR IMAGINATION." Henry David Thoreau
"I have trained a few of Thoreau's winners. They take well to the Tampa tracks, both on the main track and the turf. He throws a nice bodied horse with sturdy bone."
Kathleen O'Connell, Trainer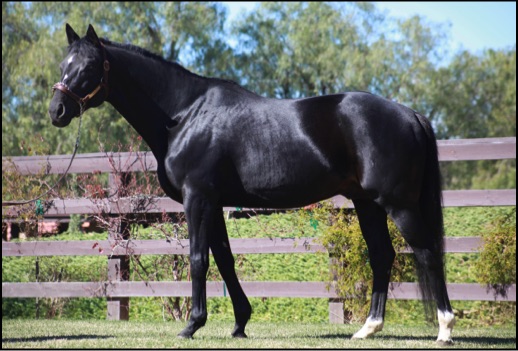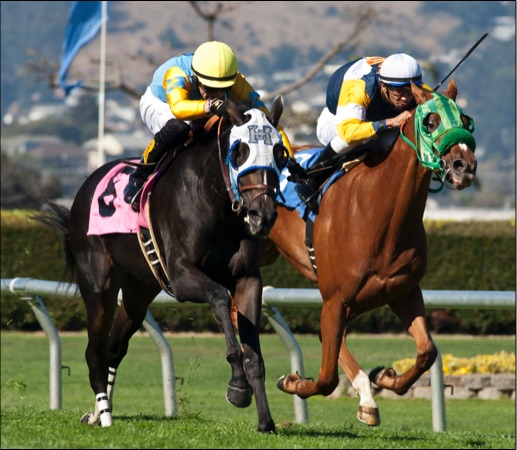 Belle de France, by Thoreau, out of Belleski, in her MSW winning effort at Golden Gate.