FOR IMMEDIATE RELEASE - November 3, 2016
OFF-TRACK THOROUGHBRED WITH OLYMPIC CONNECTION IS ENTERED TO START AT THE INAUGURAL OCALA INTERNATIONAL 3-DAY EVENT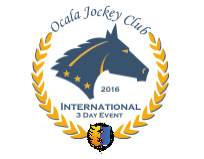 The cross country design and build team, from left: Tyson Rementer, Clayton Fredericks, Mike Etherington-Smith, Rob.

One of the showcase pieces is a carved fish in the new water feature, masterfully carved to honor the involvement of Seminole heritage on the Ocala Jockey Club property, which served as the location of Fort Drane and neighbors a burial site of Chief Emathla.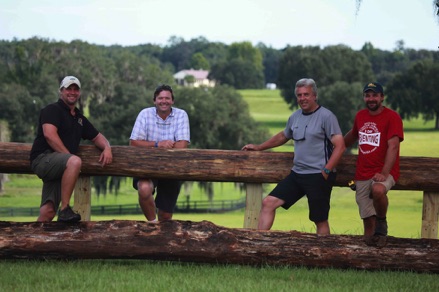 The cross-country courses for CCI1*, CCI2* and CIC3* have been carefully improved and maintained over the last year.

One of the many new cross-country jump built onsite.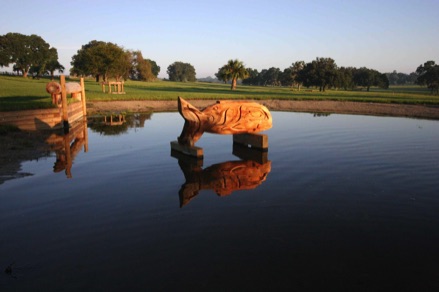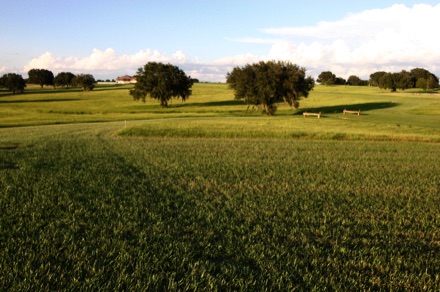 The new main grass arena has been built with derby banks sloping up towards the clubhouse.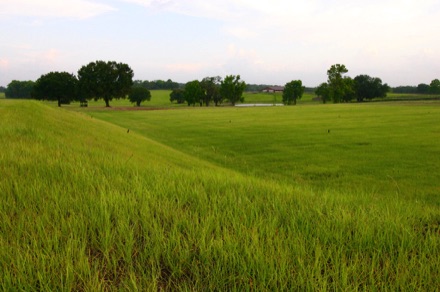 The cross-country course will pass through a jump in this pond right in front of the clubhouse.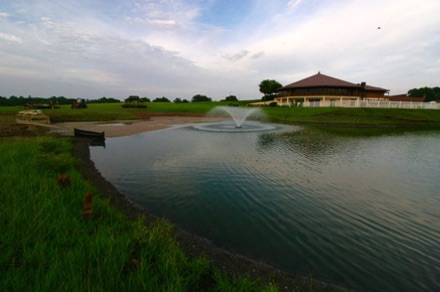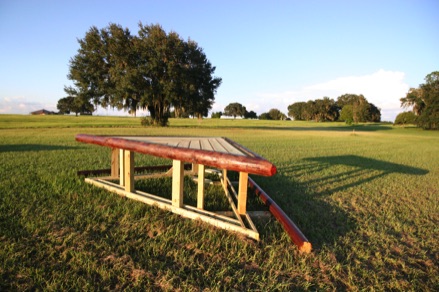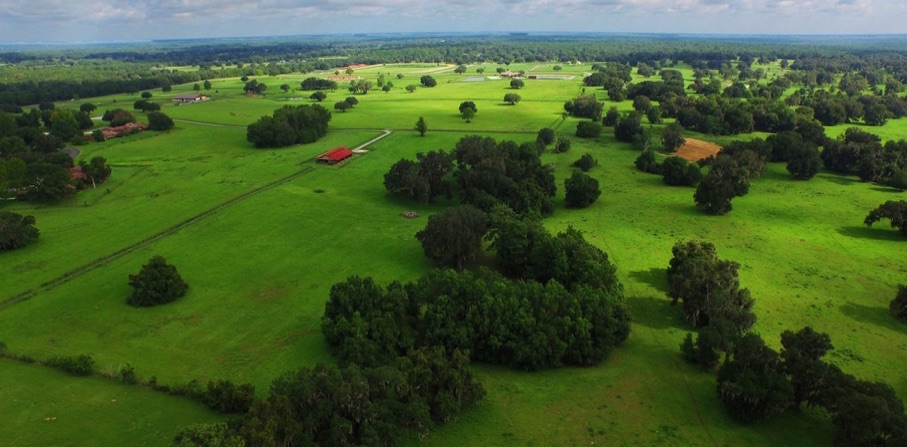 The cross-country courses wind over the miles of rolling hills of the farm, through the oak tree-studded parkland setting.
Reddick, FL — The Ocala Jockey Club is excited to announce that 4* rider Lynn Symansky has entered Donner, the Donner Syndicate's Off-Track Thoroughbred, who was the traveling reserve for the 2016 Rio Olympic Games, in the CIC 3* Thanksgiving weekend competition hosted at the Ocala Jockey Club grounds.
Thoroughbreds are prized by eventers as intelligent, brave partners with the desirable athleticism and stamina needed to complete a gruelling 3-day competition schedule requiring the dancing fluid movements of dressage, agility of show-jumping, and timed gallop over miles of rolling land and hair-raising jumps. Donner (Jockey Club name: Smart Gorky) has been at the top of U.S. eventing for several years and is greatly admired for his accomplishments – earning the 2013 Chronicle of the Horse and Eventing Nation Horse of the Year. Highlights of Donner's competition career include: being the top-placed OTTB at the 2013 and 2015 Rolex Kentucky Three-Day Event, a member of the 2011 Pan Am Gold Medal team, 2014 World Equestrian Games Team, 2015 Aachen CICO3* Nations Cup Team and top finisher in six CCI4*s all over the world.
"I am really looking forward to competing at the inaugural Ocala Jockey Club CIC3*. I was lucky enough to live in a townhouse on the Jockey Club property this past winter and have been closely following all the hard work that has gone into making this facility into a top class event. It's an amazing piece of land, and I look forward to competing on great ground over what I expect will be superiorly designed tracks by Mike Etherington-Smith and Richard Jeffery. Superb footing and course design is not easy to find in this country, let alone in November! I'm excited to have a crack at the prize and look forward to seeing the OJC continue to develop," said Lynn Symansky.
"As Thoroughbred owners and breeders, we are keenly aware that there are long and athletic futures left for many Thoroughbreds past their racing careers, and we have wanted to do our part for those bright futures by incentivizing their participation at the top levels in eventing by earmarking a sizeable prize pool for Thoroughbreds as part of the Thanksgiving weekend competition prize money structure. It is thrilling to see that a well-respected top rider and one of the most successful eventing Thoroughbreds take us up on this offer", stated Ocala Jockey Club president and owner Pavla Nygaard.
The inaugural Ocala Jockey Club International 3-Day CIC 3*, CCI 2* and 1* Event, organized and promoted by Equiventures LLC, is scheduled over this year's Thanksgiving weekend, November 24-27. The event information and entries are available at www.ojc3de.com. It features a $100,000 prize pool, the largest ever for a CIC 3* in North America, of which $15,000 will be awarded to top-placing Thoroughbreds as part of OJC's desire to recognize and incentivize their post-racing careers. The CIC 3* course was designed by Mike Etherington-Smith, former head of British Eventing, and the course designer for major events around the world such as the Sydney & Beijing Olympic Games and Kentucky CCI**** for many years. Olympian Clayton Fredericks designed the CCI 1*, and 2* courses. After inspecting the course recently, Mike Etherington-Smith commented "The footing is looking fantastic, some of the best I have seen in the USA, well done to all".
The OJC facility, with its rolling hills and showcase old-growth Spanish-moss-laden oak trees, is a crown jewel in the horse country of Ocala, Florida. About 200 acres of the 950-acre Ocala Jockey Club property serve as a Thoroughbred training farm, and the facility also includes townhouses and an iconic 9,700 square-foot clubhouse, a unique venue for weddings, event hospitality, meetings and other special events.
For more information on the Ocala Jockey Club and preview of the cross country course and new arenas, visit www.ocalajc.com.

Lynn Symansky and Donner at Great Meadow International CIC3*.
Photo by: Leslie Minz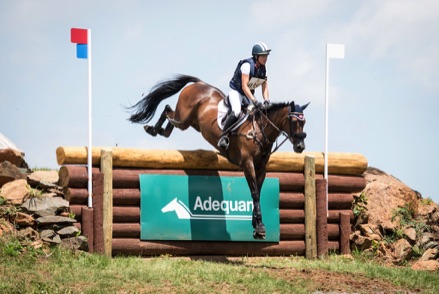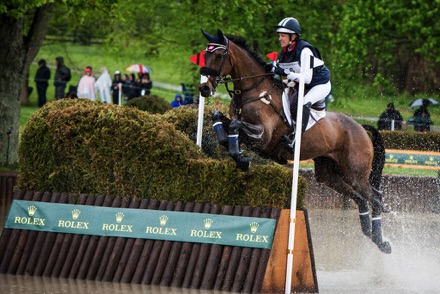 Lynn Symansky and Donner at Rolex Kentucky CCI4*.
Photo by: Leslie Minz