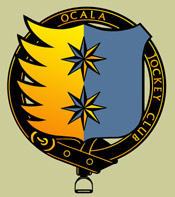 Ocala Jockey Club Restaurant Event Rates
The rate below includes tables and chairs, and yes, the views! All other arrangements are made directly between guests and Approved Caterers.
Regular Rates:
Clubhouse
Weddings & Receptions
March through June; September through December
January, February, July, August
Friday & Saturday Package
10:00am to 10:30pm, both days
$2,975
$2,675
Gold Package
Tuesday noon through Sunday noon
$3,950
$3,600
Reception, Saturday
Friday & Saturday Package only
not offered
not offered
Reception, Friday or Sunday
5 hours
$1,250
$1,250
Reception,
Monday thru Thursday
5 hours
$950
$950
Wedding Package, Saturday
Friday & Saturday Package only
not offered
not offered
Wedding Package,
Friday or Sunday
7 hours
$1,750
$1,750
Wedding Package,
Monday thru Thursday
7 hours
$1,350
$1,350
Barn
Weddings & Receptions
4/22/17 through 9/24/17
Winter Months
Barn Wedding
7 hours
$1,275
not offered
Meetings
40 to 150 People
Fewer than 40 People
Monday through Thursday
All day, 8:30am to 5:00pm
$550
$460
Monday through Thursday
3 hours
$375
$285

Photo Shoot:
2-hour session anywhere on our farm with your photographer - $400.

Discount Rates:
Please contact us for discounts offered for new events occurring within six weeks.
Holiday Rates:

Easter Sunday: $1,575 (7:30am to 4:00pm).
Memorial Day: $1,575 (12:30pm to 9:00pm).
July 4th: $2,400 (1:30pm to 10:00pm). No fireworks.
Labor Day: $1,400 (11:30am to 10:00pm).
Thanksgiving: $1,950 (9:30am to 6:00pm).
Christmas Eve: $1,950 (1:00pm to 10:30pm).
Christmas Day: $1,950 (9:30am to 6:00pm).
New Year's Eve: $3,200 (3:00pm to 12:30am). Maximum 60 guests.
New Year's Day: $1,275 (9:30am to 5:00pm).
Terms:
Additional hours may be added at an additional cost. The cost is $40 per half-hour before 10:30pm, and $60 per half-hour after 10:30pm.
There is an optional fee of $200 for use of the fireplace
Tables and chairs included
The above Base Fee is for up to 130 guests. There is a $15 per person fee for the number of attendees that exceed 130.
Cost does not include the 6% sales tax
Deposits and Payments:
25% nonrefundable deposit due upon reservation
25% additional nonrefundable deposit due 3 months before Event
Remainder (50%) due five business days before Event
Credit cards (Visa, Mastercard, American Express) and PayPal accepted
In addition a $400 security deposit will be charged five business days before the Event. The expectation is that the entire $400 will be refunded four business days after the Event unless damage or theft occurs. If the End Time is later than 10:30pm then the security deposit shall be $600 rather than $400.
Ocala Jockey Club
8720 West Highway 318, Reddick, FL 32686
Tel: (352) 591-1212 Fax: (888) 271-0467
Email: events@ocalajc.com