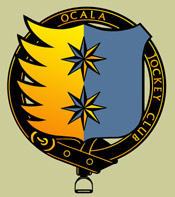 Ocala Jockey Club Restaurant Event Rates
The rental rates are listed below. The rate includes tables and chairs, and yes, the views! Beverage and pastry service is available for an additional charge. All other arrangements are made directly between guests and Approved Caterers.
Regular Rates:
Monday to Wednesday
Thursday
Friday
Saturday
Sunday
Morning

4 hours between:

$400

9:00am - 1:00pm

$450

9:00am - 1:00pm

$500

9:00am - 1:00pm

$675

8:30am - 12:30pm

$750

9:00am - 1:00pm

Afternoon/Evening

Any 5 hours between:

$850

3:30pm - 10:30pm

$950

3:30pm - 10:30pm

$1200

3:30pm - 10:30pm

$1800/$2400
see below
&nbsp&nbsp
3:00pm - 10:30pm
$1200

3:30pm - 9:30pm
Saturday Afternoon/Evening Rates:
Events occuring April 1, 2015 - February 28, 2016: $1800
Events occuring sfter March 1, 2016: $2400
Events occuring before March 31, 2015: $1500
Discount Rates:
Please contact us for discounts offered for new events occurring within six weeks.
Holiday Rates:

Easter Sunday: $1,400 (7:30am to 4:00pm).
Memorial Day: $1,400 (12:30pm to 9:00pm).
July 4th: $2,400 (1:30pm to 10:00pm). No fireworks.
Labor Day: $1,400 (11:30am to 10:00pm).
Thanksgiving: $1,800 (9:30am to 6:00pm).
Christmas Eve: $1,800 (1:00pm to 10:30pm).
Christmas Day: $1,800 (9:30am to 6:00pm).
New Year's Eve: $2,400 (3:00pm to 12:30am). Maximum 60 guests.
New Year's Day: $1,150 (9:30am to 5:00pm).
Terms:
Additional hours may be added at an additional cost
There is an optional fee of $200 for use of the fireplace
Wedding set-up fee is $275
Tables and chairs included
The above Base Fee is for up to 100 guests. There is a $4 per person fee for the number of attendees that exceed 100.
Cost does not include the 6% sales tax
Deposits and Payments:
25% nonrefundable deposit due upon reservation
25% additional nonrefundable deposit due 3 months before Event
Remainder (50%) due five business days before Event
Credit cards (Visa, Mastercard, American Express) and PayPal accepted
In addition a $400 security deposit will be charged five business days before the Event. The expectation is that the entire $400 will be refunded the day after the Event unless damage or theft occurs.
Ocala Jockey Club
8720 West Highway 318, Reddick, FL 32686
Tel: (352) 591-1212 Fax: (888) 271-0467
Email: events@ocalajc.com